License Walkie Talkie Distributor in Mumbai
Royal Enterprises started in the year 2008, with just two partners. But, today we become a team of 20, pan India License Walkie Talkie Distributor in Mumbai. We deal with different brands such as  CPPLUS, HIKVISION, DAHUA, SECUREYE KENT ESSL, SECUREYE, CPPLUS, CRYSTAL, NEC, MATRIX, PANASONIC, SKYLINK. Syntel IP APBX, VERTEL, ASPERA, KENWOOD, MOTOROLA, ACCESS, LENOVO, ALINKO LG, SAMSUNG, PANASONIC, SONY, EPSON, BENQ, SAMSUNG, PANASONIC, SONY.
What is a Walkie-Talkie?
Walkie-talkies are handheld portable radios: that utilize radio waves to allow for wireless communication on a single shared frequency band. They are now widely used in a variety of organizations and industries that require instant and group communication. They have moved from specialized to general consumption, expanding from military to civilian, including public safety, emergency, transportation, construction, manufacturing, and many others.
Each battery-powered unit contains a transmitter/receiver, an antenna (for sending and receiving radio waves) mounted on the top of the unit, a loudspeaker that often serves as a microphone when you're talking to it, and a "Push-To-Talk" button (PTT).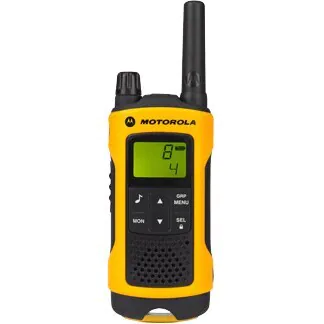 How Do Walkie-Talkies Work?
A walkie-talkie is a battery-powered transmitter. It can send and receive radio messages. It employs a half-duplex communication transfer technology, in which a single channel allows communication in only one direction at any time, a message cannot be sent and received at the same time.
When you use a walkie-talkie, you need to tune into the same frequency band as other people. Once you are ready to talk, you must press the Push-To-Talk (PTT) button, and the sound is immediately transmitted over the radio waves and sent to others on the same channel. Then say "over" at the end of the transmission and release the Push-To-Talk button, switch to the listening mode to hear the sound from other units.